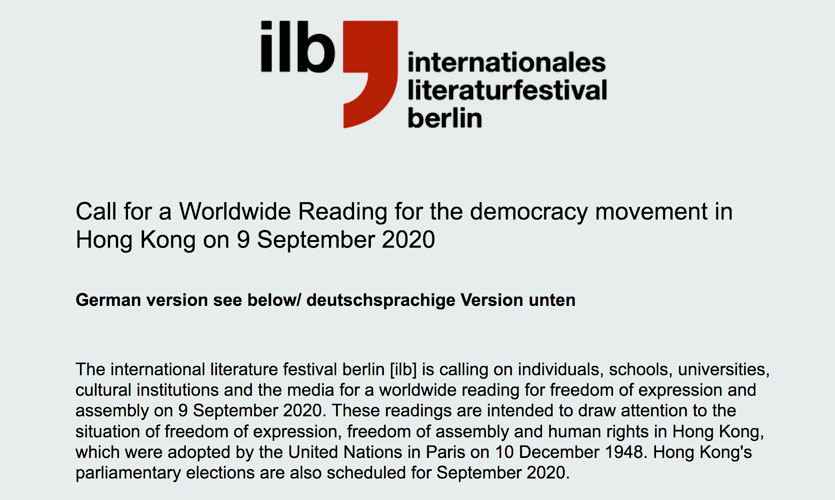 "
…
The international literature festival berlin is calling on individuals, schools, universities, cultural institutions and the media for a worldwide reading for freedom of expression and assembly on 9 September 2020. These readings are intended to draw attention to the situation of freedom of expression, freedom of assembly and human rights in Hong Kong, which were adopted by the United Nations in Paris on 10 December 1948. Hong Kong's parliamentary elections are also scheduled for September 2020.
…
The recent arrests of 15 representatives of civil society, the democratic camp and the media are part of a long tradition of sometimes subtle, sometimes offensive efforts by the People's Republic of China to influence the Hong Kong Special Administrative Region (SAR), which has been semi-autonomous since 1997, and its government formation. New York Times May 22nd: "On Hong Kong, the leadership struck a hard line at the annual meeting of China's legislature, unveiling a plan to impose sweeping new security laws that would place the territory more firmly under Beijing's thumb and crack down on antigovernment protests." The headline of the Frankfurter Allgemeine Zeitung in Germany: "China wants to put an end to the protest movement in Hong Kong".
…
Institutions and persons who would like to participate with a reading on 9 September 2020 are asked to inform us and send information like: name of the organizer, place and date of the event, participants, language of the event and, if you have, website link.
…
"