BLACK.LIGHT PROJECT
"Death in the Shadows"
Frankfurter Allgemeine Zeitung, 14. January 2012
Andreas Platthaus
"
At the beginning of 2011, everything appeared to be going well, both with the project and the financing. Things were progressing quickly, and, upon first glance, "Black.Light" looked even better than one could have expected a year ago. But now there's money trouble, even though 10 leading illustrators are currently working on "Black.Light."
It's so typical: Initially, leading artists and journalists are quick to show an interest for the desperation in the world's nether regions. They develop a concept to bring together not only the most disparate forms of storytelling, but also people from north and south, from wealth and poverty, from light and shadow. Then, out of nowhere, the genesis of something spectacular suddenly draws the focus of attention and the financial means to something much more appealing, because we prefer to document beauty instead of ugliness, to show that which puts us in a good light instead of what our shadows are. Now, there is no more interest in "Black.Light" because that something spectacular is last year's Arab Spring. But what does it have to do with Black.Light?
First, one has to ask: What is Black.Light? Simply posing the question speaks volumes about the problems of the project. Normally, one would think a cross-border and cross-discipline concept for presenting human tragedy through a combination of artistic and documentary styles would stir interest and attract support. But during the time in which the tragedy played out – 1989 to 2007 –  it was given short shrift outside of Africa. Fighting in the successor states of Yugoslavia, the Middle East conflict and two Iraq wars were more than just competition for publishing space: They made the West blind to the horrors in regions that are merely on the periphery of its spheres of interest. So much is true for areas like West Africa.
From 1989 to 2007, Charles Taylor defined life in that part of the world. The Liberian warlord carried the power struggle for his homeland to neighboring states before actually becoming president of Liberia following the 1997 civil war. Once in office, he fomented a second civil war and further international conflicts. International pressure forced his resignation in 2003, he was extradited from his exile in Nigeria in 2006, and in 2007 he found himself charged with war crimes in Sierra Leone by a U.N. Special Court in The Hague. The trial against the man who once set West Africa aflame in still underway. Black.Light tells the story of the effects of Taylor's actions.
…
"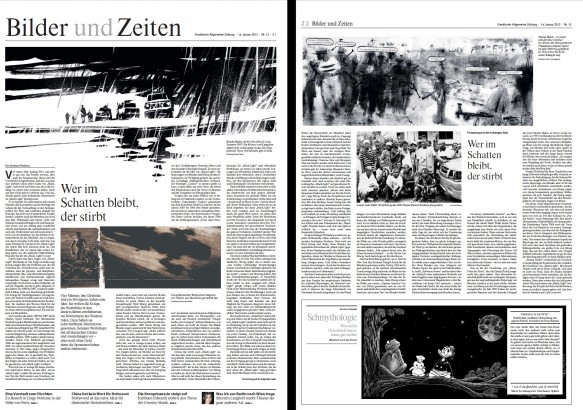 Read full story at Melton Prior Institut for reportage drawing & printing culture